Brennari Crown frá UWELL
550 kr.
Brennari (coil) frá UWELL
Lýsing
Brennara fyrir Crown III frá UWELL (Coil)
0,25 Wattage Range 80-90w
0,4 Wattage Range 55-65w
0,5 Wattage Range 70-80w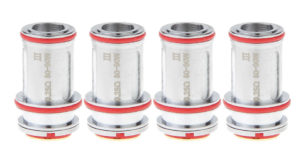 Lýsingar á Crown III
Uwell Crown TC Sub-Ohm Tank features one of the cleanest adjustable airflow control ring for high vapor capability and great construction build that brings out robust flavors.
A hidden gem in the vape industry, the latest Crown Sub-Ohm Tank from Uwell delivers a new foundation for tank systems. The tank is designed with superior construction in mind, featuring a durable heavy frame made of "food-grade" stainless steel for effortless disassembly and a Quartz glass chamber with 4 mL capacity. A slimmer-profile for its sloped chimney widebore provides robust flavor on your favorite juice. The drip tip is built with exceptional thick o-rings and dual coil capability that can handle high wattages. Along with temperature control function, its vapor production rivals the top RDAs and surpassing most sub-ohm tanks in today's market. For additional versatility, the package comes with three stainless steel coils prebuilt with organic cotton. If you are looking for a high performance tank at an affordable price point, check out the newest UWell Crown Sub-Ohm Tank!
The Crown 3 coil system has been optimized for the perfect balance of vapor and flavor production. Adopting a Parallel coil structure along with a convenient plug-pull mechanism for a fast and easy replacement process.
The 0.25 ohm Crown 3 SUS316 Parallel Coils features a wattage range of 80-90 watts.
The 0.5 ohm Crown 3 SUS316 coils features a wattage range of 70-80 watts.
The 0.4 ohm Crown 3 coil still uses the same SUS316 shell but uses an A1 Kanthal core for the wire. The 0.4 ohm Crown 3 coil features a wattage range of 55-65 watts.