AIO (All in One Style)
4.990 kr.
Frábær vara á góðu verði
Joyetech eGo AIO ECO Starter Kit, new portable All-In-One style, comes with a in-built 650mAh battery and 1.2ml tank capacity. Joyetech eGo AIO ECO features a new ECO technology and brand-new BFNH 0.5ohm coild head, which work perfectly under 6-8W low wattage and extends the battery life longer than normal. eGo AIO ECO tank designs top airflow and top refill system, makes it has a long-lasting and pure flavor for vapors. Equipped with 7 colorful LED light indicators. Designed with simplicity and efficiency, the Joyetech eGo AIO ECO Starter Kit is ideal vape device for everyone.
Being awfully petite and loveable, the eGo AIO ECO applies all-in-one style with the new atomizer inserted inside, which is very simple and convenient to use. Moreover, the pen-like design makes it so portable and so easy to grip
Lýsing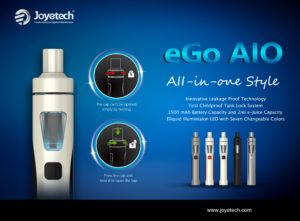 Specification:
Diameter: 14mm
Height: 113.0mm
E-liquid Capacity: 1.2ml
Coil head: BFHN 0.5ohm head
Max charging current: 1A
Output mode: constant voltage (1.85V) output
Battery capacity: 650mAh